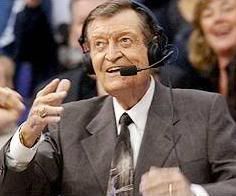 The Lakers had who most consider the best play by play announcer of all time, Chick Hearn will always be remembered for inventing his own lingo such as slam dunk, air ball, and no harm, no foul that have become common basketball phrases. During his career he broadcasted 3,338 consecutive Lakers games beginning on November 21, 1965 and ending in the 2001 season when he had to have cardiac bypass surgery. He first started as the teams broadcaster in March of 1961 and his final Laker game broadcast came during game 4 of the 2002 NBA Finals when the Lakers beat the New Jersey Nets to three-peat as the NBA champions, quite a way for the Lakers to end the Chick Hearn legacy. Before the next season would start Chick Hearn suffered a fall at his home and hit his head which caused a serious injury. He was rushed to the hospital, three days later he died from the injury. The Lakers and the city of Los Angeles honored Chick by renaming a portion of 11th Street Chick Hearn Court, this street runs alongside Staples Center's main entry. The city also renamed the blue line station into Pico-Chick Hearn. Chick was inducted into the Basketball Hall of Fame in 1991. In 1995 he was inducted into the Sportscaster Hall of Fame by fellow sportscasters. Here are some sayings, lingo, phrases or as some call it - CHICK-ISMS - created by Chick Hearn.
20 foot lay-up: A jump shot by Jamaal Wilkes
Air-ball: A shot that draws nothing but air.
(He sent that one back) Air-mail Special!: A strongly-blocked shot, often sent high into the stands.
Bloooows the layup! : Missed a very easy layup.
Boo-birds: Fans who boo their own team when they play badly.
(He did the) bunny hop in the pea patch: He was called for traveling.
(You could) call it with Braille: An easy call for an official, e.g. a blatant foul.
(He got) caught with his hand in the cookie jar: A reaching foul.
(The) Charity Stripe: The free-throw line.
(He's got 'em) covered like the rug on your floor: Really good one-on-one defense.
(They) couldn't beat the Sisters of Mercy: The team is getting beat badly.
(They) couldn't throw a pea into the ocean: The team's shooting is really awful.
(It'll) count if it goes ...: A player that is fouled in the act of shooting. It go-o-o-oes! (if the shot is successful)
(That shot) didn't draw iron: A shot which misses the rim, but hits the backboard. Sometimes, would add but it drew a lot of flies
Dime store score: A 10 to 5 score
Dribble-drive: A player drives the basket while dribbling.
Finger roll: A shot where the ball rolls off the shooter's fingers.
(He) fly-swatted (that one): A shot blocked with force and authority.
Football score: A score resembling one often seen in a football game (e.g., 21 to 14).
(He threw up a) frozen rope: A shot with a very flat trajectory.
(We're) high above the western sideline: Chick's perch at the Forum, from which he called his word's eye views of the game.
Hippity-hops the dribble: A player dribbling the ball does a little hop step.
I'll bet you an ice-cream: Hearn and Keith Erickson (his one-time color commentator) often bet ice creams on the outcome of a shot or game.
(He's got) ice-water in his veins: When a player hits a clutch free-throw.
(It's) First and ten: Multiple players are sprawled on the floor after a physical play or diving for the ball.
(It's)

garbage time

: The (often sloppily-played) remainder of the game (after it's in the refrigerator).
Give and Go: A player passes the ball, makes a quick cut, and receives a return pass.
(In & out,) heart-brrrreak!: A shot that appears to go in, but rattles off the rim and misses. Sometimes it went in so far you could read the Commissioner's name from below.
He has two chances, slim and none, and slim just left the building: The player has no chance of success with this play.
If that goes in, I'm walking home: Similar to a prayer, when the opponent shoots a shot that is a prayer, a streak, or some amazing shot. (Usually on the road)
Leapin' Lena: A shot made while the player is in the air and off balance.
Marge could have made that shot: a missed shot that was so easy, Hearn's wife Marge could have made it. Marge was often referred to when a player messed up something that was easy.
(There are) lots of referees in the building, only three getting paid: The entire crowd acts as though they are the officials by disagreeing with a call.
The mustard's off the hot dog: A player attempts an unnecessarily showy, flashy play which ends up in a turnover or is otherwise unsuccessful.
My grandmother could guard him, and she can't go to her left!: Said of a slow, out of shape, or hurt player.
Nervous time: When the final moments of a game are pressure-packed.
94-by-50 hunk of wood: The basketball court, based on the floor's dimensions. (Attacking 47 feet: The front court.)
No harm, no foul(no blood, no ambulance, no stitches): A non-call by an official when varying degrees of contact have occurred. More adjectives means the non-call was more questionable.)
Not Phi Beta Kappa: Not a smart play.
...Since Hector was a pup A very long time (e.g., the Lakers haven't had the lead since Hector was a pup.)
He's in the Popcorn Machine (with butter and salt all over him): Meaning that a defensive player got faked into the air (and out of play) by an offensive player's pump fake. ("Popcorn Machine" is a reference to an actual popcorn machine in the old Los Angeles Sports Arena, which was near the basket, but far away from the court. Thus, if the player went far out of play, he was in the "popcorn machine.")
(He's) on him like a postage stamp: Very tight defense.
Slam Dunk!: Hearn's most famous phrase; a powerful shot where a player forces the ball through the rim with one or both hands.
(He) takes him to the third floor and leaves him at the mezzanine: A move where an offensive player pump-fakes a defender and draws a foul from the leaping player.
Tattoo dribble: A player dribbling the ball while not moving, as though tattooing the floor with the ball, as he waits for the play to develop.
This game's in the refrigerator: the door is closed, the lights are out, the eggs are cooling, the butter's getting hard, and the Jell-O's jigglin'!: The game's outcome is set; only the final score is in question. Chick's variation on "the game's on ice."
Throws up a brick: When a player tosses up a particularly errant shot.
Throws up a prayer (... it's answered!!!): A wild shot that will need a miracle to score (and does).
Ticky-tack: A foul called when very little contact has been made.

Triple Double

: A player gets 10 or more (i.e. double digits) in three statistical categories: points, rebounds, assists, steals or blocked shots.
(On his) wallet: A player fell on his rear end.
Words-eye view: What listeners received while listening to Hearn call the game on the radio.
(He's) working on his Wrigleys. A player is chewing gum.
(He's) yo-yo-ing up and down: A player dribbles in one place as if he were playing with a yo-yo on a string.
Chick's nicknames for Laker Players
Kareem Abdul - Jabbar: Cap, The Captain, Big Fella
Kobe Bryant: The Kid
Cedric Ceballos: Garbage Man
Michael Cooper: Secretary of Defense
Rick Fox: Foxy
Gail Goodrich: Stumpy (because of his height) This nickname, frequently used by Hearn, was actually given to Goodrich by teammate Elgin Baylor.

Magic Johnson: Buck, The Magic Man
Shaquille O'Neal: Big Fella
Kurt Rambis: Blue-collar Kurt, Clark Kent (because of his safety glasses)
Jerry West: Mr. Clutch, Zeke from Cabin Creek
James Worthy: Big Game James
Nick Van Exel: Nick the Quick, Nick Van Excellent
Sedale Threatt: The Thief
Eddie Jones: Fast Eddie, The Pickpocket
Derek Fisher: Fish
Eddie Jordan: Thief of Baghdad